Did you know that legumes - such as peas, lentils and beans - in combination with our AVRAMIDIS olive oil, are not only incredibly healthy, but can also prolong your life? It's true! People on the island of Ikaria in the so-called Blue Zone, eat a large part of their diet on legumes. And what is the Blue Zone? Tadaa, the area with the most centenarians in the world!

Scientists believe that the microbiome is crucial to our health. Legumes are rich in protein and fiber and have a positive impact on our microbiome (the sum of all the microbes in our gut). AVRAMIDIS olive oil is rich in unsaturated fatty acids, vitamin E and antioxidants.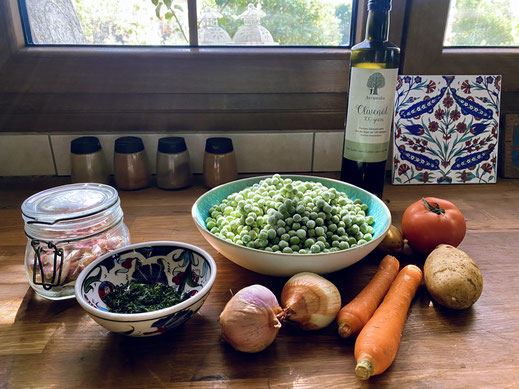 Then let's get started with a delicious recipe that is also easy to cook: arakas (a kind of pea stew).
A few tips beforehand:
Add little water.
Use frozen peas, the tomato puree gives enough liquid.
Simmer the ingredients only slightly, the olive oil will coat the vegetables.
The liquid should be almost evaporated by the end of the cooking time.
Ingredients for 4 people:
750 g green peas (frozen product).
4 - 5 medium-sized waxy potatoes
1 - 2 medium carrots
3 - 4 cloves of garlic
1 large onion
4 spring onions, or one leek
250 ml tomato puree, or 2 - 3 diced medium tomatoes
1 tsp tomato paste
100 - 200 ml water
2 - 3 tbsp chopped dill
200 ml AVRAMIDIS olive oil
salt, pepper
Feta, finely diced
Preparation:
First clean and peel all the vegetables.
Cut the potatoes and carrots into bite-sized pieces.
Roughly dice the onion. Cut spring onions or leeks into coarse pieces.
Peel garlic, press through.
Wash and chop dill. Set aside some dill for garnish.
In a frying pan, heat the olive oil. Sauté onions, scallions (or leeks) briefly.
Add carrots and potatoes and continue to sauté.
Mix in garlic, dill, salt, tomato puree and tomato paste.
Add a little water to allow potatoes and carrots to cook.
Bring Latheros to a boil, covered, and simmer over low heat.
After 15 minutes, mix in the frozen peas, bring to a boil again.
Gently finish cooking for another 10 minutes.
Simmer vegetables, covered, for about 5 minutes to thicken liquid.
Finely dice feta cheese and sprinkle over Arakas Peas in Tomato Sauce with Feta.
Sprinkle remaining dill over peas and serve with fresh bread - best enjoyed warm!