What a delicious greeting from the Icarian kitchen! In the small tavern Platanos, the owner Philipa served us this wonderful soup made of celery tuber and potato with a touch of olive oil and chilli olive oil. He spread the Bruchetta with a tomato and chilli jam and sprinkled it with fine dill threads. You can find all the ingredients here.
Ingredients for 8 portions
2 celeriac (500 - 600g)
3 potatoes
2 onions
2 white leeks
1 l vegetable stock
1 tbsp butter
1 dash Avramidis® olive oil 100years
1 pinch of sugar
1 pinch of white pepper
1 pinch of salt
1 cup cream
Wash and peel the celery root and cut into small cubes. Do the same with the potatoes and onions. Wash the leek, remove the roots and cut the white part of the leek into fine rings.
Put a little olive oil and a knob of butter in a saucepan and sweat the diced celery, potatoes and onions over a low heat until translucent. Briefly sauté the white part of the leek, deglaze with vegetable stock and then bring to the boil over a high heat. As soon as the soup boils, turn down the heat to medium and simmer for about 10 minutes.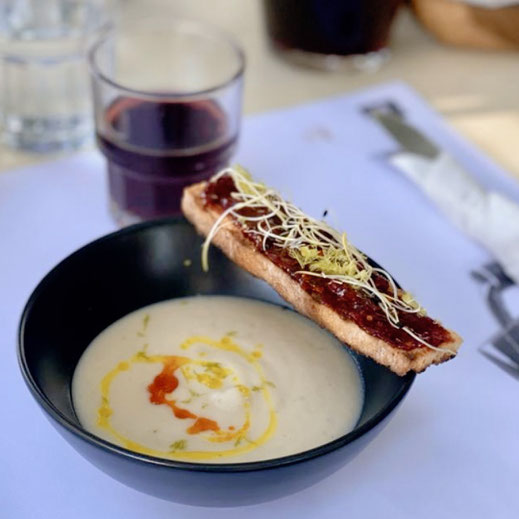 When the celery and potatoes have boiled away, add the cream, season the soup with salt, white pepper and sugar, purée in a blender and pour through a coarse sieve. Collect the soup from under the sieve with a saucepan. Spread a little Avramidis® olive oil 100 years over the soup with a teaspoon.

But of course we don't want to deprive you of the tomato/chili jam.
Tomato chilli jam
Ingredients
1.5 kg tomatoes
1 teaspoon medium hot chilli pepper
4 cloves of garlic
1 tablespoon vinegar
3 small onions
120 g brown sugar
10 stalks thyme
2 sprigs rosemary
6 stalks basil
Some fresh dill to garnish
Salt & pepper
Blanch the tomatoes for about 30 seconds in boiling water, rinse, peel, remove the stalk and cut into cubes. Peel and finely chop the garlic. Peel and dice the onions.
Heat the sugar in a saucepan and let it melt. Add the garlic and onions and caramelise.
Deglaze with vinegar and add the tomatoes and herbs. Leave the herbs whole. Leave the herbs whole. They should cook with the sauce and are removed at the end.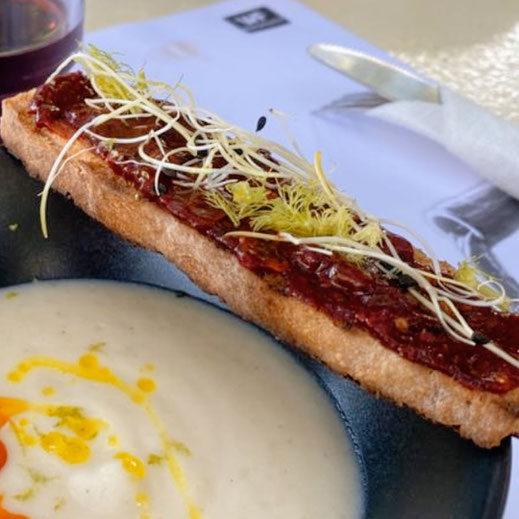 Stir now and then and let it boil down for about 40 minutes until it thickens.
Remove the herbs and season with salt and pepper. If you like, you can puree the spicy tomato jam briefly.
Fill into clean jars while still hot and seal immediately.