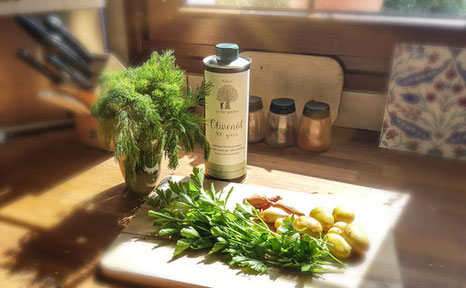 Today I made a delicious Ikarian chickpea soup (Revithia soupa). Chickpeas are a healthy source of protein, fibre and important unsaturated fatty acids. Many valuable minerals such as magnesium, iron, copper and vitamin K also add to the nutritional value of chickpeas.
In case you're wondering about the size of our little potatoes and onions, this is what they actually look like when you grow them naturally, without fertilizers and pesticides. I don't even peel the potatoes, I just wash them thoroughly, because most of the vitamins are in the skin.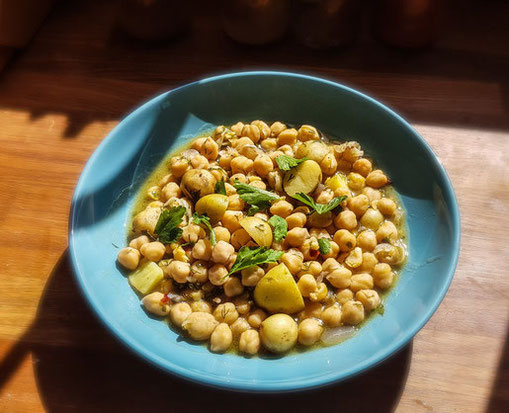 I'm happy to share the recipe with you:
• 250 g chickpeas, soaked overnight in plenty of water
• 1 large onion, peeled and diced
• 3 medium-sized potatoes
• 5 tbsp. Avramidis Olive Oil 100 years
• 1 bunch of parsley, washed and chopped
• 1 bunch of fresh dill, washed and chopped
• some salt
• some ground black pepper
Drain the soaked chickpeas in a colander and bring to a boil in 1,5 litres of cold water. Skim off the foam, cover and simmer for an hour.
Add the onions, potatoes, dill and parsley along with the olive oil, cover and simmer for another 30 minutes.
When the vegetables are soft, the soup can be seasoned with salt and pepper.
Have fun trying out this recipe!