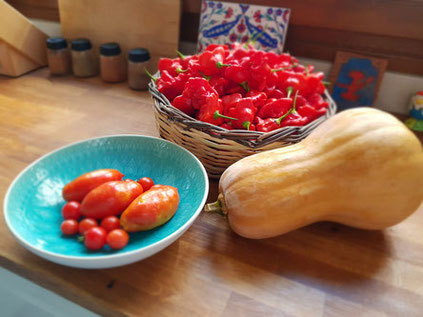 In the photo you can see the little bell peppers that grow here. They are super spicy. But chili peppers or regular peppers are also fine. 
You will need:
- pumpkin (I used half of the pumpkin in the photo for 5 persons).
- one onion
- one pepper 
- two tomatoes (or tomato paste)
- basil 
- parsley
- some chili 
- curry
- some white wine
- and of course Avramidis Olive Oil 100 years
Cut everything into small pieces and sauté in a saucepan. When the pumpkin's texture becomes mealy, deglaze with some white wine.
Have fun trying out this recipe😋!