You will need (approximately)
500 g potatoes, waxy
200 g beets
100 g onion
1 clove of garlic
Some high quality olive oil (e.g. Avramidis Olive Oil 100 years)
1 sprig of rosemary 
Some basil leaves 
Some oregano (e.g. Leander's wild oregano from our shop) 
80 g Feta cheese
Salt and pepper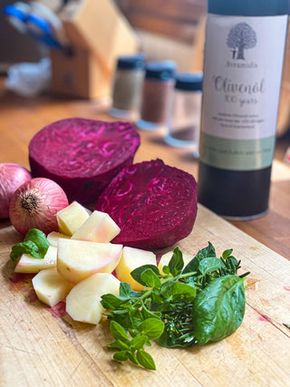 Peel the potatoes and cut into pieces. Peel the beetroot (don't forget your gloves, otherwise your fingers will get red) and cut into cubes. Peel the onion and cut into quarters (could also be mixed with spring onions, if desired). Finely chop the garlic clove. Pluck the oregano leaves from the stems, and coarsely chop the basil and rosemary.
Heat the olive oil in a pan (not too hot) and fry the well-drained potato cubes together with the beetroot for about 20 minutes. Add the onions and garlic to the potatoes and beetroot, and cook for another 15 minutes. Toss the herbs through the potatoes and season with salt and pepper. Crumble the feta cheese over the potatoes and serve immediately.
Have fun trying out this recipe!