After I collected hórta (wild greens) with a friend yesterday, I was thinking about what to do with those wonderfully fragrant herbs. Besides a boiled salad, dressed with olive oil and lemon juice, I had the idea to bake a hortópita.
It turned out really delicious! Many wild herbs also grow in Germany. As my Ikarian friend told me, you can actually eat anything that grows in the meadows. She told me that she used to simply try out the raw herbs. If she liked them, she would take them home and show them to her mother, who told her what the herbs are called and what they are good for.
But if you want to play safe you could also use spinach and dandelions for the pita.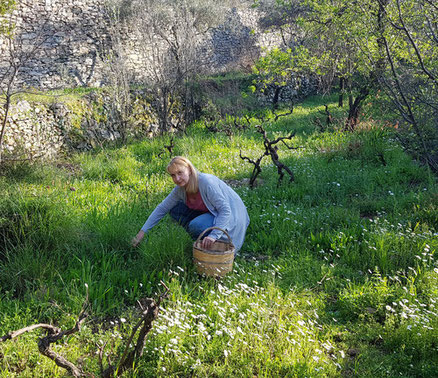 Here's the recipe for 6 persons: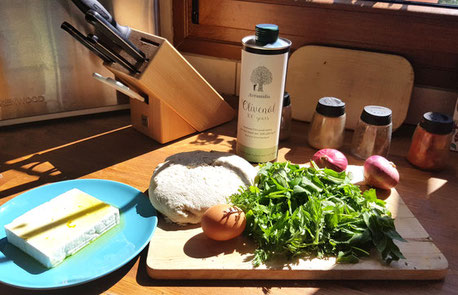 300 g wild herbs or seasonal lettuce, spinach and dandelions
3 spring onions
fresh herbs (e.g. basil, parsley) 
400 g feta cheese
3 eggs
salt, pepper
Dough 
600 g flour
2 teaspoons of salt
2 teaspoons of wine vinegar
100 ml Avramidis Olive Oil 100 years
additional flour and olive oil (or 12 sheets of ready-made Filo or Yufka dough)
Preparation:
Wash the wild greens or lettuce leaves, coarsely chop (brings out the flavour even more) and cook briefly (approx. 5 minutes).
Mix the finely chopped spring onions and herbs, and sauté briefly in the pan.
Mix flour and salt, add oil, and knead with approx. 300 ml warm water until it forms a smooth, firm dough. Let it rest for an hour.
Shape the dough into 5 balls and place on a floured wooden board.
Roll out each dough ball into very thin, transparent sheets, in the size of the baking dish.
Mix the crumbled feta with two eggs, then with the herb/lettuce mixture and salt.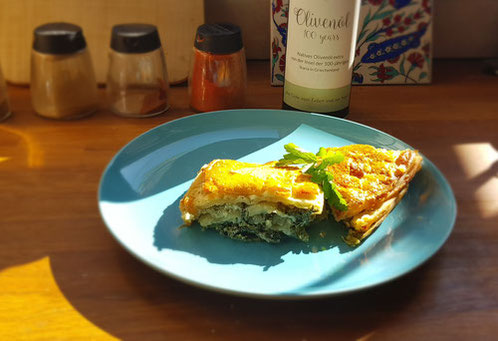 Put a pita sheet in the baking dish, fold in the excess dough hanging over the edges. 
Drizzle olive oil over the pita sheet.
Spread one quarter of the herb mixture evenly on top. Repeat the process until it's all used up. To complete, cover with pita sheets.
Brush the top layer with a raw, mixed egg, and cut into a grid shape. 
Put the pita in a cold oven and bake at 180 °C for about 40 minutes, until the top is golden brown. 
Enjoy!